Financial Markets
Wholesale market participants use our broking services to assess trading availability and execute trades.
We specialise in being an intermediary between financial institutions, such as investment banks, investment firms, market makers, corporates, central and regional banks, local authorities, and money markets funds.
In several asset classes, our award-winning platform Fusion enables clients to enter prices and execute trades electronically, supported by our brokers for price discovery and trade negotiation.
We seek to add value by facilitating:
Our Markets & Products
For each asset class, clients benefit from our integrated approach to execution.
Through our technology, clients can enter prices directly, and execute trades electronically. They can also engage with expert brokers, who can help identify, and negotiate, trades.
We offer broking services for a wide range of asset classes including Rates, FX, Emerging Markets, Credit, Equities and Money Markets
Rates
ICAP's rates business is recognised as an industry leader
We are market-leading across the entire range of interest rate products, ranging from government bonds, to interest rate swaps, to exotic options.
Coverage is global, with a depth of experience in both local and G10 markets in Asia, EMEA and the Americas.
Our voice broking offering is fully integrated with our technology - Fusion - giving customers electronic connectivity to our order books and trading venues.
Product coverage:
Cross Currency, Single Currency & CCP Basis Swaps
Government Bonds & Futures Basis
Inflation Swaps & IOTA Packages
Interest Rate Options
Interest Rate Swaps & Asset Spreads
Overnight Index Swaps
Repo
Treasuries
US Municipal Swaps
Foreign Exchange and Emerging Markets
ICAP is a leading broker across the entire range of spot and forward foreign exchange. Serving a global customer base, we offer broking services in all G10 and Emerging Market currencies, across short and long dated FX Derivatives.
Product coverage:
Emerging Markets IRS
Forward FX
FX Options
Non-deliverable Forwards
Spot FX
Credit
We cover a wealth of credit products and derivatives, from government and corporate bonds to mortgage-backed securities. Clients can choose voice and electronic trading solutions to discover prices and access exceptional liquidity.
Product coverage:
Corporate and Financial Bonds
Credit Derivatives
Emerging Market Bonds
Eurobonds
Mortgage-Backed Securities
Money Markets
Our Money Markets broking solutions cover a wide range of products in all major currencies. Our clients include institutional investors, central banks, FHLB banks, Yankee banks, corporates and local government authorities (municipalities).
Product coverage:
Cash Deposits and Fed Funds
Certificates of Deposits
Commercial Paper
Floating Rate Notes
T-Bills and Agency Notes
Equities
Our Equity Derivative franchise provides access to all major global exchanges. Through Fusion, we offer electronic price discovery and straight-through-processing across a wide range of products and strategies. Our focus is on providing a seamless and cost-efficient trading solution for our clients.
Product coverage:
ADRs
Cash Equities
Delta 1
ETFs
Single Stock and Index Options
MSCI Futures
Stock Loans
Structured Finance
Electronic Platforms
Our leading technology provides our clients with an efficient ecosystem to facilitate price discovery, execution and efficient downstream services.
Our flagship platform – FUSION – supports multi-asset class trading across FX, fixed income, equity and interest rate derivatives.
Delivering agile solutions to global markets through Innovation and collaboration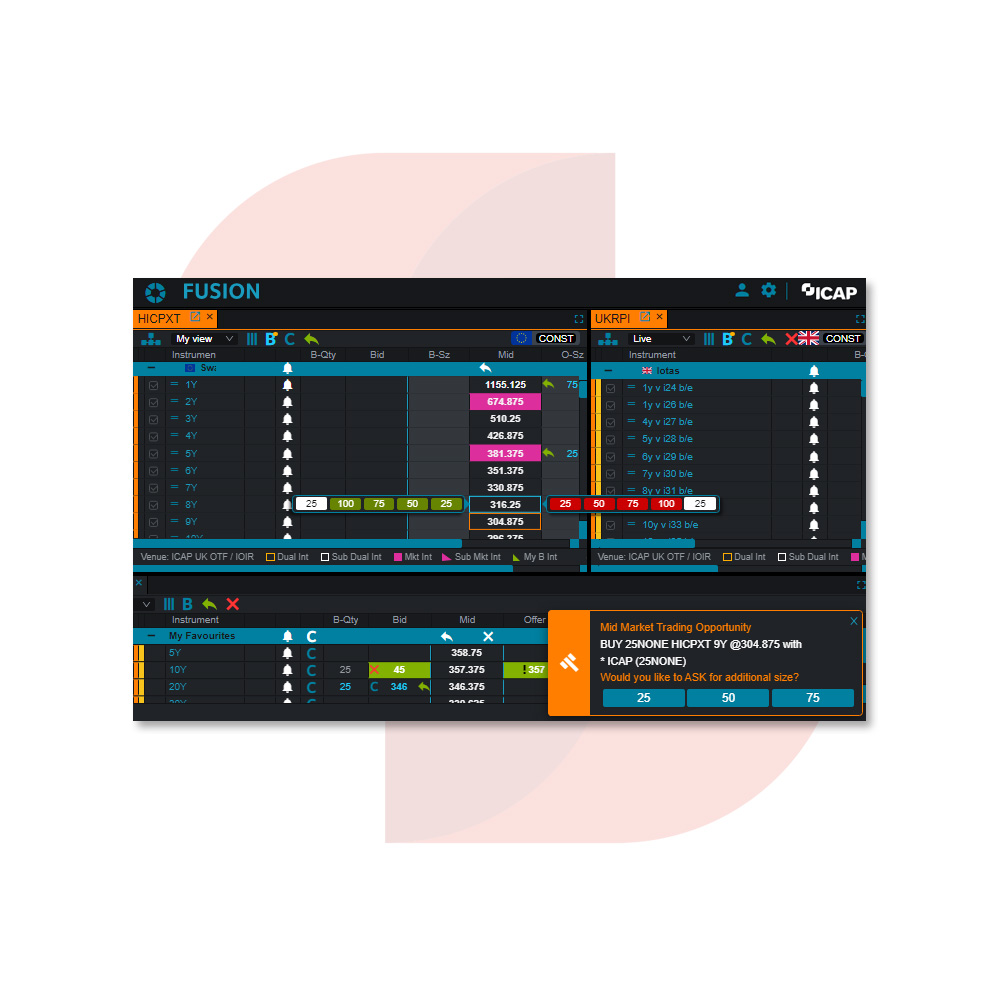 Fusion is our flagship electronic platform.
It equips our brokers to better serve our clients across the full lifecycle of a trade. For clients, Fusion provides access to ICAP's global liquidity from one screen.
Fusion also provide real-time data, automated trade processing, and settlement solutions. This helps clients accelerate trade confirmation and reduce operational risk, meaning that they can transact with confidence. 
We know every trader is an individual with different styles, market coverage and interests. Fusion is therefore fully customisable, so traders can tailor the combination of products and access to best meet their needs.
The platform is also fully cloud enabled and engineered to easily integrate new functionality. This means that we can develop the platform according to the changing needs of our clients and developments in market infrastructure.
Asset classes live on Fusion include: FX, Rates, Equities, Fixed Income, Local Markets, and Asian NDF – 1m Hard Match.
Volume matching for Rates, FX, Bonds, CDS, NDF and Commodities
Whiteboards allowing price discovery
Matchbook
Equity Derivatives cleared EFP product in collaboration with BATS Exchange
CNH Hub.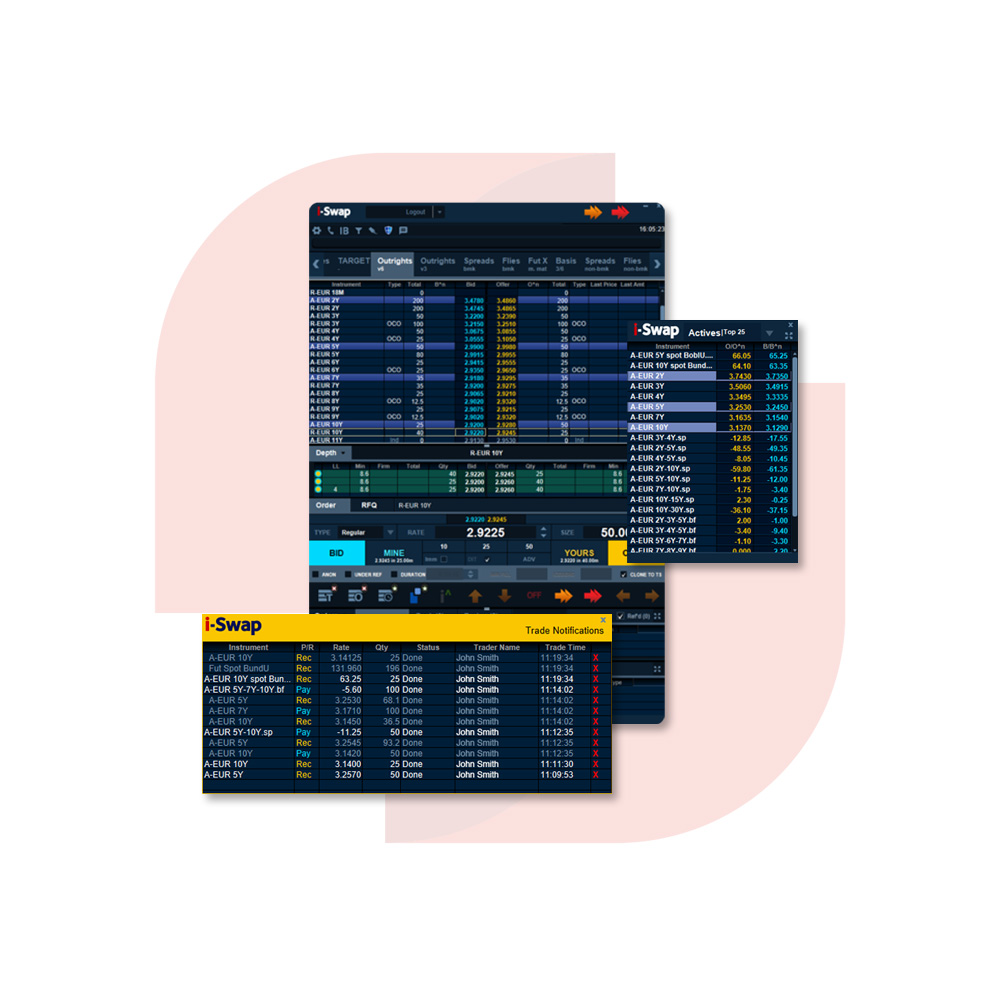 i-Swap is an electronic trading platform for Interest Rate Swaps, providing advanced trading functionality across Dealer-to-Dealer and Dealer-to-Client markets in EUR, GBP and USD.
i-Swap operates a regulated EU Multilateral Trading Facility (MTF) and Swap Execution Facility for the EUR market, and a UK MTF for the GBP market. In the USD market, i-Swap provides the underlying technology platform to the ICAP Global Derivatives Limited Swap Execution Facility (SEF).
i-Swap's hybrid model ensures leading liquidity, execution and transparency by combining the best of voice and electronic markets. The platform supports a range of market models, with full order book trading functionality available to market participants.
i-Swap Central Limit Order Book
Provides Dealer-to-Dealer non-disclosed liquidity, with a hybrid model enabling maximum execution flexibility through:
Multi-legged, implied matching of strategies and outright swaps with no chain length limitation or legging risk
Price/implied chain length/time priority order-book matching
Full order book depth dissemination, order tradability flags and market trade history
i-Swap Targeted Streaming (TS) market
Delivers private electronic Request-for-Stream orderbooks with disclosed market-maker liquidity, tailored to each individual market user through:
Price/auto-accept/time priority order-book matching, with optional market-maker last look
Instant two-click trading with ability to override priority and trade on any order in depth
Resting order capability including cloned and Done-If-Touched order types
Request-for-Quote that enables MIFID II compliant, on-venue Dealer-to-Client trading
i-Swap platform features include:
Certainty of execution through pre-allocated bilateral and clearing credit limits enabling firm pricing and instant sub-millisecond matching
Open technology framework with single channel API in Java/C++ and FIX connectivity supporting automated order and credit submission, instant trade/risk updates and STP
Functionally rich XFE GUI connecting over private circuit, VPN or the internet. Available as installed application or browser based distribution via webstart. RTD application for real time data feed into Excel
Ultra-low latency exchange-based technology handling peak throughput of over 7,000 orders per second
Links and Downloads:
Contact Details:
i-swap@icap.com 
+44(0) 203 933 3500