ICAP launches new Spot FX eMatching platform, SpotMatch
ICAP launches new Spot FX eMatching platform, SpotMatch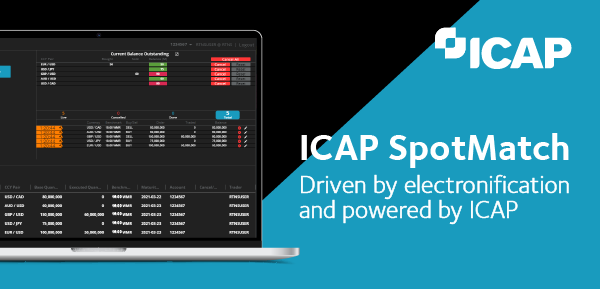 ICAP, part of TP ICAP Group, a leading provider of market infrastructure, today announces the launch of its newest electronic offering, SpotMatch.
This is an advanced, fully automated Spot FX matching platform, which has been developed to meet client demand for an alternative and cost effective eMatching solution.
The service will provide clients with access to a deep pool of liquidity across the interbank marketplace due to ICAP's diverse bank relationships, resulting in superior matching opportunities.
This new product is a key part of TP ICAP's electronification strategy, using state-of-the-art HTML5 technology and FIX API connectivity to deliver a market-leading product for clients. The secure platform enables traders to submit orders prior to pre-scheduled FX matching events and take advantage of first-in-first-out methodology. Matched trades then flow through to a client's benchmark order book using post-trade solutions.

Andrew Berry, Senior Managing Director, ICAP said:
"We have developed SpotMatch to meet client demand. Following many discussions with our clients it became clear there is a need for a simple, user-friendly interface for eMatching trading across FX Markets. We're continuing to focus on electronification right across the business and this is another example of where TP ICAP is taking important strides forward to deliver innovative electronic offerings in key marketplaces."
 
View the SpotMatch Brochure here
About TP ICAP Group plc
TP ICAP Group plc is a leading global markets infrastructure and data solutions provider.  The Group operates a portfolio of separate and competing brands to deliver intermediary services, contextual insights and intelligence, trade execution, pre- and post-trade services, and data-led solutions. We are formed of four business divisions:
Global Broking: the largest Interdealer Broker in the world operating under the ICAP, Tullett Prebon and Louis Capital brands servicing clients in Rates, FX, Credit and Equities. We match buyers and sellers, facilitate price discovery, liquidity, execution and risk management.
Energy & Commodities: the world's leading OTC energy and commodities broker operating under the ICAP, PVM and Tullett Prebon brands. Active in all major commodities markets including oil, gas, power, renewables, ferrous metals, base metals, precious metals and soft commodities. 
Agency Execution: serving the buy side operating under the Liquidnet and COEX Partners brands. We provide trading services for a broad range of asset classes, serving a sophisticated client base of asset managers, asset owners and hedge funds.
Data & Analytics: the largest OTC data provider in the world operating predominantly under the Parameta Solutions brand offering unbiased data products and solutions that facilitate trading, enhance transparency, reduce risk, improve operational efficiency and a broad range of risk management solutions. 
Media Contact
TP ICAP
Laura Whybrow
E: Laura.Whybrow@tpicap.com